Meet Our Donors
We thank each of our legacy donors for their commitment to advancing medical excellence through charitable giving. Here is the story of Milton and Geraldine Beall.
Milton and Geraldine Beall Bequest Supports Oncology, Cardiology
Longtime Arlington residents Milton and Geraldine Beall expressed their gratitude for the care they received at Virginia Hospital Center through a generous bequest. By designating outpatient oncology and inpatient cardiology as the beneficiaries of 25 percent of their estate, the Bealls will help cancer and cardiac patients for years to come.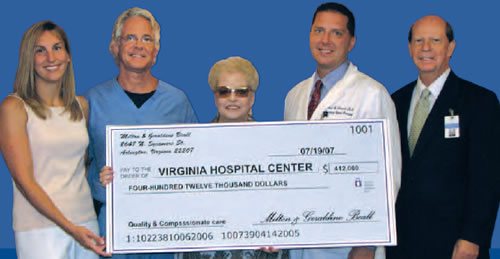 Pictured left to right: Laura Griffith, RN, (E.D. Nurse and neighbor of the Beall family); John R. Garrett, MD (Chief of Cardiac, Thoracic & Vascular Surgery); Lorraine Tartaglione (Auxiliary member and Beall family friend); David R. Duhamel, MD (Medical Director of Outpatient Oncology Center); and James B. Cole, President & CEO, Virginia Hospital Center.